Regardless of the size of your party, or the reason for your celebration, the Austin Dallas San Antonio private dining rooms at Iron Cactus Mexican restaurants are perfect for your event. Whether you are in Dallas, Austin or San Antonio, we've got you covered.
Austin Dallas San Antonio private dining rooms offer variety and come in all shapes and sizes.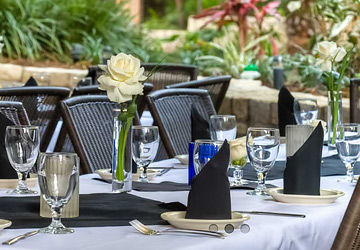 North Austin at Stonelake has four different options for party rooms. Our Agave Room is a large open space radiating from our curved bar and includes a large stage in the center. This is perfect for a 'happening' company party, or most any event, and can fit parties of 50 to 150 guests. Our Cactus Room is a completely enclosed room great for private dinners, lunches and corporate meetings, accommodating up to 50 guests. The Loft is a small area off the main private dining room for a small gathering. And of course, you can host an amazing outside party on our patio for up to 100 guests.
Downtown Austin at 6th Street and Trinity has four options for Austin private dining rooms and private parties. If it's a big corporate event, rent the entire restaurant accommodating up to 500 people! Or pick the best roof top patio in Austin, right above 6th Street, for a party of up to 250 in a cocktail setting. You can also choose the Cactus Room, a unique space including a private bar fitting up to 120 guests. Or finally, throw a casual get together in our Mezzanine for up to 40 guests.
On the River Walk in San Antonio, Iron Cactus features 5 San Antonio private dining rooms or party spaces, starting with the entire restaurant for large events of up to 500 guests. The Upper Dining Room option features floor to ceiling windows looking out onto the Riverwalk, and can accommodate 40 to 60 depending upon whether it is for a cocktail event or sit down dinner. The Patio is right on the Riverwalk, and can very casually be set for 85 to 120 people. Finally, a unique party option is to take a Tequila Dinner Cruise, enjoying fine Mexican cuisine and of course, tequila, on the river itself.
Last but not least, our Downtown Dallas Iron Cactus is an amazing venue that will turn heads at your next corporate event or private party. Our Dallas private dining rooms include the Cactus Room, including a birds-eye view of Main Street and room for parties of up to 110 guests. The Tapas and Margarita Bar is a sophisticated spot on the second floor featuring a Tapas bar for show cooking entertainment, plus a full bar, tequila wall and margarita machines, fitting parties up to 150. The Plaza Dining room opens onto Pegasus plaza for dinner parties of 70 and cocktail receptions up to 125. Move the party outside on the patio and plaza for groups of up to 2,000 people – so your closest friends and family only! Or rent the entire 3-level restaurant for up to 500 guests.
Regardless of the size of your group, or your need to gather, the Austin, Dallas and San Antonio private dining rooms at Iron Cactus Mexican Grill and Margarita Bar are always a hit.
Austin, Dallas, San Antonio Private Dining Rooms
was last modified:
August 9th, 2018
by