If you're looking to discover a true downtown gem for a most incredible meal, then the brunch near me in Dallas for you is at the Iron Cactus Mexican Grill & Margarita Bar. Here, you'll find all of your brunch favorites like waffles and omelets alongside the incredible traditional Mexican flavors you would expect from a quality Mexican kitchen. Why not take the opportunity this weekend to check out the many standout dishes (and drinks!) that await you at the Iron Cactus?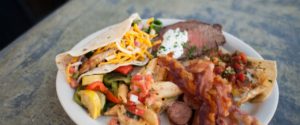 The second you walk in the door to the Iron Cactus, you'll know you made the perfect choice for brunch near me in Dallas. You'll be captivated by the smell of fresh homemade tortillas being cooked just for you. As you take a seat in our 14,000 square foot restaurant, you'll realize there's more than enough room to accommodate you and your friends for a delicious brunch. Frankly, we wouldn't dream of having it without you! As you begin to weigh your dining options, our friendly wait staff will help you figure out the perfect beverage to set the tone for your day. And whether that's a refreshing bubbly mimosa, a tangy Bloody Mary or a sweet and tart margarita, our staff will make sure to find you the best beverage to pair with your mouthwatering meal.
You were planning on bringing a healthy appetite to brunch, weren't you? We only ask because your brunch near me in Dallas at the Iron Cactus is all you can eat from 10 am until 3 pm. That gives you all the time in the world to try out the entire brunch menu, find a personal favorite and then head back for seconds and thirds! So whether what you desire is a crispy, golden brown waffle, a savory stuffed omelet or even some delectable enchiladas, you're sure to find one or more entrees to fill
your belly.
Don't just try any old restaurant for brunch near me in Dallas this weekend. Make your choice the winning choice… choose the Iron Cactus. We'll be waiting to serve you and put a smile on your face! Find us downtown at 1520 Main Street, Dallas, TX 75201 or look us up online anytime at www.ironcactus.com.
Brunch Near Me In Dallas
was last modified:
May 10th, 2018
by