Did you know that finding the right Mexican restaurants in Austin could be a healthy escape for your New Year's resolution? Iron Cactus is one of few award winning Mexican restaurants in Austin that serves up fresh, made from scratch dishes that is perfect for your New Year's resolutions. It's time to start burning fat and eating healthy at Iron Cactus Mexican Restaurant in Austin…your one-stop-shop for nutritious and delicious food.
For example, Iron Cactus prepares all of our own guacamole from scratch. Did you know that avocados are full of healthy nutrients and have more potassium than a banana? Avocados are also full of heart-healthy Monounsaturated Fatty Acids and eating avocados can help lower your Cholesterol and provide a great source of natural fiber. Iron Cactus Mexican Restaurants in Austin uses only the freshest avocados in our house made guacamole and dishes. Try our delicious table-side guacamole made with fresh tomatoes, onions, cilantro, and citrus.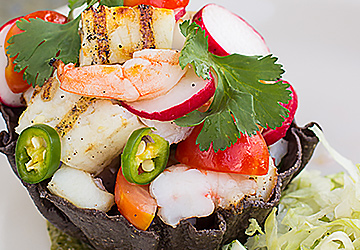 Fish and seafood are also great alternatives for living a heart-healthy, low fat diet. Fresh seafood can help you maintain a healthy heart, ease arthritis symptoms, and helps boost brainpower. Iron Cactus in Austin offers numerous fresh seafood dishes that is sure to please your tastebuds and your waist line. Try our Hickory Grilled Salmon, this dish features grilled Salmon, roasted corn-crab relish, cilantro-lime rice and is complimented by a fresh seasonal vegetable.
If you're cutting out carbs or looking for a gluten-free menu, than Iron Cactus has you covered. Try our Southwest Paella or our amazing Mahi Mahi Veracruz featuring tomatoes, olives, green chiles, seasonal vegetable and more. If you are counting carbs, on the Atkins diet, or in the zone…Iron Cactus are your best Mexican restaurants in Austin offering a robust gluten-free menu.
Celebrate the New Year and new you by enjoying a fresh meal from Iron Cactus in Austin. When looking for Mexican restaurants in Austin, look for the ones that can help you eat healthy while also tasting delicious. With food this good, you have no excuse to give up on your resolutions.
Visit us at our Downtown Austin Location: 606 Trinity Street Austin, TX 78701.