It's summertime so there is nothing better than rooftop patios for outdoor dining with a margarita in hand! Iron Cactus's Austin location has a 3rd floor rooftop patio that overlooks 6th street district and downtown skyline. You can enjoy the fun atmosphere of 6th street from afar! Our patio has a full bar and menu so you can have the full outdoor dining experience.
Iron Cactus offers over 100 premium tequilas mixed into martinis and margaritas! Try a fun summer margarita flavor perfect for outdoor drinking like the spicy watermelon, blood orange, or strawberry cactus! Iron Cactus has other amazing drink options like the Peach Mule, Longhorn Lemonade, Frosé, and Cactus Juice. The Peach Mule includes Enchanted Rock Peach Vodka, fresh lime, and Gosling's ginger beer.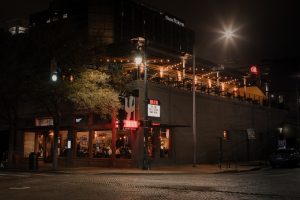 Iron Cactus redefines contemporary Mexican dining. The menu includes innovative choices like Pork Tamale Pops, Mexican Meatloaf, and Vegan Tacos. Pork Tamale Pops are an excellent appetizer choice made with moist pork, flavorful tamale masa, jalapeños, and pepper jack. It is a fun, unique twist on a classic! The Mexican Meatloaf is a new house favorite. It is served with chorizo, bacon, ranchero sauce, green chile bacon mash, and Mexican street corn. Yum! Iron Cactus has an option for your vegan friends and family. They are sure to enjoy our flavorful Vegan Tacos filled with portabella mushrooms, black beans, lettuce, fresh avocado, sun-dried tomatoes, and pico de gallo. View our lunch and dinner menu full of delicious options to enjoy on our beautiful rooftop patio!
Iron Cactus is a great choice if you are in Downtown Austin looking for unique Mexican food, great views, and a fun outdoor dining experience! We are open every day for lunch and dinner.