Grab your friends, bring your appetite, and get ready for Sunday Brunch at Iron Cactus. Brunch is served every Sunday between 11am–3pm at our Austin location and 11am-2pm at our San Antonio location. This gives you and your crew plenty of time to join us for a meal, whether you're an early bird to brunch or prefer to sleep in late. No matter what time you arrive, we have all your favorites on the menu. From omelets to Belgian waffles, migas to pancakes, and more. We have a variety of omelets to choose from such as the vegetarian omelet, iron omelet, and egg white omelet. The vegetarian omelet includes spinach, red and green bell pepper, mushrooms, onion, and cheddar cheese, and is complete with avocado slices and verde salsa.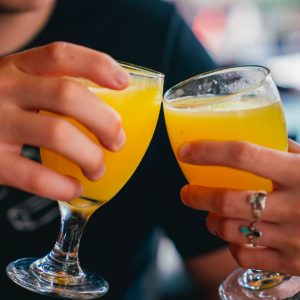 You can never go wrong with satisfying your sweet tooth and going with Belgian waffles or pancakes for brunch. The Belgian waffles are topped with whipped cream and fresh strawberries and served with bacon or sausage and a fruit cup.
No Sunday brunch is complete without a fantastic brunch cocktail. Our drink menu includes mimosa, Bloody Mary, Mexican Coffee, ginger beer margaritas, and more fun cocktails. View our delicious brunch menu online. We hope to see you soon at Iron Cactus for Sunday Brunch!