Another weekend is always just around the corner, and with it comes your next chance to take in an amazing brunch near me in Austin. Topping that list of brunch destinations should be the Iron Cactus Mexican Grill and Margarita Bar. For an unbelievable price, you'll find delicious food options to satisfy even the most finicky palate, all with ambience and a view that stands shoulder to shoulder with the best restaurants in town.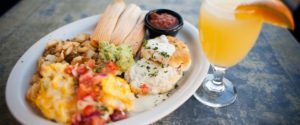 Whether you're an early riser or the type to hit the snooze for hours on end, the Iron Cactus brunch will be ready and waiting for you this weekend. Conveniently running from ten in the morning until three in the afternoon, there's no need to rush to get here. Just know all your favorite brunch dishes will be here when you arrive. With both traditional brunch fare and our delicious Tex-Mex options available, your next brunch is guaranteed to be a success. We even infuse some of your brunch favorites with a little Mexican flare, like our delicious biscuits with jalapeno gravy. Just imagine a fluffy fresh-made biscuit covered in our homemade gravy alongside huevos rancheros, tamales or even a cooked to order omelette and a buttery Belgian waffle. Doesn't that sound like the brunch near me in Austin that you would like to try?
Don't forget that the Iron Cactus has all the brunch time beverages you could possibly desire as well! Whether what you need is to slowly wake up with a relaxing mimosa, or a little eye-opener like a Bloody Mary or Michelada, we'll be happy to create you a beverage to perfectly compliment your brunch near me in Austin. So whether you're an early riser or the last to get out of bed on Sunday, get yourself over to the Iron Cactus and enjoy a brunch buffet that will set you up for a great day to come. We can't wait to see you this weekend! You'll find the Iron Cactus in Downtown Austin at 606 Trinity Street, Austin, TX 78701. Menus, information and more can be found online at our website, www.ironcactus.com.