Picture this scene, if you will. It's Sunday morning, you've just woken up ready to enjoy a lazy day. Suddenly, you hear a rumbling like a thousand timpani drums! What could it be?!? Is there an earthquake happening?!? No… that is the clarion call of the rumbling stomach. You have awakened BrunchZilla! And when you find yourself with the hunger of a mighty beast like BrunchZilla, there's only one way to satisfy it, because it's time to get a plate piled high with your favorite food at the best brunch near me in Dallas. And you will find that brunch at the Iron Cactus!
Close your eyes and picture this delicious image. A pan filled with the fluffiest scrambled eggs cooked for you, while onions and peppers sweat down to the perfect texture and taste. They are all married together with savory cheese to form the omelet of your dreams! The gourmet goodness continues when you pair your delicious omelet with salty bacon and spicy sausage.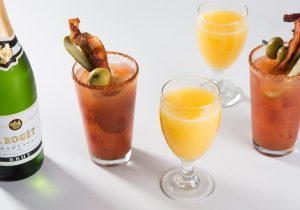 But this isn't just any meal… this is brunch, my friend. And with brunch it's almost mandatory that you pair these magnificent morsels with a fizzy, sweet mimosa or the amazing umami flavors of a Bloody Mary.
Food and drink like that go a long way towards soothing the savage BrunchZilla within at brunch near me in Dallas.
The Iron Cactus stands alone because you're served nothing short of the best dishes offered, all brought out piping hot from the kitchen.
No matter what you choose to eat for brunch, you can know confidently that you're getting an amazing meal and a winning price. And you can keep going back for seconds (or thirds!) of all your favorites until you're full.
When it comes to first-class brunch fare with great service and an amazing selection, the Iron Cactus checks all these boxes.
So why not make plans to enjoy an amazing brunch near me in Dallas now. Brunch is waiting for you (and BrunchZilla) every Sunday at the Iron Cactus. Find us downtown at 1520 Main Street, Dallas, TX 75201.
Brunch Near Me in Dallas
was last modified:
January 13th, 2020
by