The calendar is quickly headed towards May and you know what that means… graduation! And with so many schools in the Austin area, that means the demand for catering near me in Austin for graduation parties will be incredibly high. So if you find you're in the need for a first-class catered meal for your senior, don't delay! The good news is there's still time for you to find the perfect option for your function. You would be hard-pressed to find a better meal and a better catering option than from the Iron Cactus Mexican Grill and Margarita Bar, Austin's home for catering, redefined.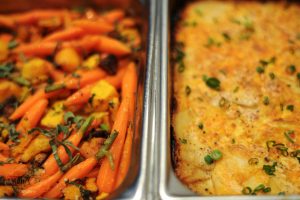 The Iron Cactus offers our catering near me in Austin customers a variety of food options that is second to none. There are literally thousands of potential menu combinations you could put together from our fine Mexican cuisine. But if you find yourself suffering from analysis paralysis due to so many options, our catering staff would be thrilled to help you put together the perfect menu for you and your guests. With dining options from our fajita buffet to prime rib carving station, we are certain to find a menu that will work for you and your guests.
Perhaps you're considering an event that's earlier in the day. If you find that's the case, we also offer our catered brunch buffet, featuring your favorite choices from our world-famous Iron Cactus brunch. Impress your guests with an assortment of build your own breakfast tacos, an omelet station and even a waffle bar. And if you're looking to indulge your sweet tooth, you can also choose from our assortment of desserts for your event. It all starts when you contact us at https://ironcactus.com/austin-catering/ for your catering near me in Austin request. Then we can help you plan the perfect event for your graduation party, a corporate event, holiday party or more. Oh, and if all this talk of food has your stomach rumbling, we've got a table waiting for you downtown at 6th and Trinity! Come by and get a taste of the goodness right now!