Iron Cactus has the best holiday event space in San Antonio. Located right on the River Walk, you get to enjoy the fun atmosphere while still having privacy. View the River Walk Christmas lights and boat cruises while drinking from one of the top tequila bars in the United States. There is a reason Iron Cactus has been voted Best of the River Walk for the last 6 years running!
Our private rooms have everything you need to throw the best holiday party in San Antonio. We have private and semi-private rooms. Our Cactus and Agave Rooms are private rooms with their own private bars, but can be combined into one large space. The Cactus Room seats up to 48 people and the Agave Room seats up to 72 people. When combined the room seats up to 120 people or 168 cocktail-style. The space comes with a 70″ flat screen TV with HDMI inputs, DVD player, and wireless microphone.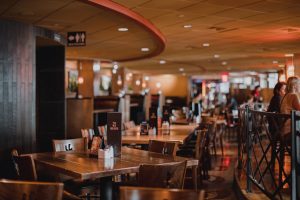 The upper dining is a great space for smaller holiday parties. It is semi-private and has floor to ceiling windows that look out to the patio and River Walk. The view is incredible! If you are having a huge holiday party with all your friends and family, then rent the entire restaurant! You can seat up to 500 people and there are 3 private bars. Don't wait any longer and book your holiday event space in San Antonio today!