Some days you can absolutely taste the food you're hungry for, even when you're not near it. It's a sensation strong enough to drive you crazy when you're picturing the delicious fare at the Iron Cactus Mexican Grill & Margarita Bar. So when the occasion comes that you're hankering for Mexican food near me in Austin, feed that need and come on over to Iron Cactus!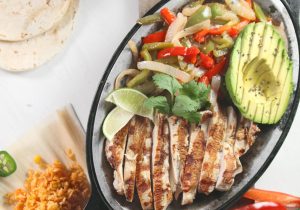 With so many outstanding items on the menu, your mind can run wild picturing all the amazing dishes. Perhaps you find yourself craving the scrumptious Iron Cactus chicken enchiladas. If you are, it's certainly understandable. White meat chicken is cooked low and slow with an assortment of Mexican spices until it becomes fork tender and shredded to perfection. This chicken is mixed with spicy, savory hatch green chiles then wrapped in fresh-made tortillas, coated in our delicious verde sauce, made with tomatillos, onions and peppers. Finally, the dish is topped with a blanket of Monterrey Jack cheese and served with Mexican rice and your choice of mouthwatering beans. If picturing this dish doesn't have you reaching for your car keys and headed out the door for Mexican food near me in Austin, then nothing will!
Don't deny yourself the amazing meal that you're dreaming of! To do so would be a nightmare scenario. Plan your next trip to grab the best Mexican food near me in Austin at the Iron Cactus. You will find food for all tastes, plus the most refreshing drinks in town to complement your meal. You will find the Iron Cactus in Downtown Austin at Sixth and Trinity at 606 Trinity Street, Austin, TX 78701. Make your dream of a delicious meal a reality today!