When searching for the best of the Mexican restaurants in Austin, the name at the top of your list needs to be the Iron Cactus. Here, you'll find all of your favorite Mexican staples, like enchiladas and tacos, but you'll find so much more than that. At the Iron Cactus, we focus on Mexican dining, redefined. That's our way of saying we specialize in innovative new techniques that elevate your favorite dishes. We think you'll be pleasantly surprised by the tastes, textures and flavors you'll discover when you come in for a meal.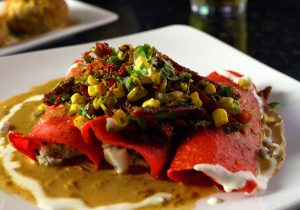 One innovative example of how the Iron Cactus redefines Mexican dining can be seen in our mouthwatering Pork Tamale Pops. Normally, when you think of tamales, your mind will conjure up images of pork-filled masa neatly wrapped in a corn husk and steam heated until fork tender. Now don't get us wrong, EVERYONE loves a good tamale… but we think we've taken tamales to the next level. Picture flavorful pork and tamale masa formed into lollipop-sized balls, bonded together with delicious pepper jack cheese and baked to perfection. Served atop a preparation of savory sauces, then topped with queso blanco and served on a stick, these tamale pops are the perfect finger food for those seeking a youthful spin on a Mexican classic. Plus they keep your hands mess-free! Other Mexican restaurants in Austin say they can offer you something special, but at the Iron Cactus, the proof is in the pudding… and the tamales!
Don't just take our word for it, make plans to visit the Iron Cactus Mexican Grill and Margarita Bar today and get a taste of the innovative dishes other Mexican restaurants in Austin wish they had created!. And visit us at our Downtown Austin restaurant 606 Trinity Street, Austin, TX 78701.