There are few things in life more tantalizing than a delicious Mexican dinner. You could be in the middle of a meal and suddenly get a sense of 'FOMO,' the fear of missing out, because you know you could be eating something so much better than that sandwich in front of you. Why not kick FOMO to the curb and put that sandwich in the fridge? Because the best Mexican food near me in Dallas is just around the corner at the Iron Cactus Mexican Grill & Margarita Bar.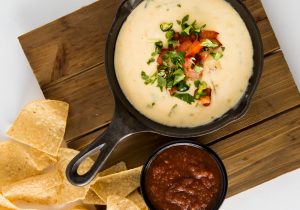 The menu at the Iron Cactus is loaded with so many Mexican food favorites that it's difficult to know where to start. Why not kick off your meal of Mexican food near me in Dallas with one of our amazing appetizers, like our Crab Stuffed Jalapeños? The bounty of the sea has never tasted so good, as we combine fresh jalapeños, bacon and jumbo lump crab meat, crust them in panko bread crumbs and fry them to a delicious golden brown, then top them with our mouthwatering lobster crema. Pair those jalapeños with our Lobster Tacos, and you've got quite a meal. Chunks of delicious lobster tail and claw meat marry together on warm flour tortillas with peppers, spinach and Monterrey Jack cheese to create an outstanding taste you won't soon forget. Trust us when we say you'll want to try these treats as soon as you can!
Don't let the fear of missing out take root and ruin your meal! Just get yourself to the Iron Cactus and get ready for the best Mexican food near me in Dallas. You will find food for all tastes, plus the most refreshing drinks in town to complement your meal. You will find the Iron Cactus in Downtown Dallas at 1520 Main Street, Dallas, TX 75201. Turn that FOMO into YOLO and enjoy one of the best meals in town today!