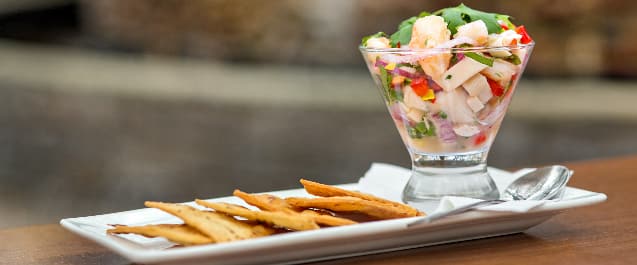 Looking for the perfect Mexican restaurant nearby? Then you're in luck, because no matter where you are, you're never too far from Iron Cactus Mexican Grill & Margarita Bar! Enjoy Mexican dining redefined, as we tantalize you with unique flavors and cooking methods that conjure up images of old Mexico. And just like the passion that your abuela puts into creating each handmade tortilla, Iron Cactus brings that passion to every element of your meal.
Our menu is the culmination of countless hours in the kitchen and years studying the distinctive cuisine of Mexico and the Gulf Coast, creating dishes that are equal parts fresh, mouth-watering and delectable. A great example is our Camarones a la Parilla… a spicy, sweet and salty combination of Gulf shrimp, jalapeno, panela and bacon that will dance across each of your taste buds. You will have gone through all of your shrimp before you realize which taste was most dominant and delicious, so why not order seconds?
But don't assume a Mexican restaurant nearby like Iron Cactus can't think outside the box. Just look at our inspired Mexican Meatloaf. We take Angus sirloin and blend it with chorizo and bacon to create a wholly Mexican spin on an American comfort food classic. Paired with our green chile bacon mash and elotes, you'll be forgiven if you picture a rousing night in Veracruz with each bite. We'll understand if you head straight to the host stand to make a reservation for a return visit to enjoy it all over again.
Why give another Mexican restaurant nearby another thought? You're sure to find everything you desire, including authentic delightful dishes, at Iron Cactus Mexican Grill & Margarita Bar. Find the location nearest you online at www.ironcactus.com.